Godox seems to be the next company pushing in to quality budget LED lighting market as we have previously seen with Aputure. Iin 2019 the FV series of lights was introduced creating a hybrid Flash/Video light at an amazing price point. On the 15th of January Godox posted a news update on their website, the VL series had officially been released. While the FV series combines Photography and Videography in a sinlge product, VL is a purely video focused light that comes in three power modes, 150, 200 and 300 watts featuring a power output of 6400 to 10800 LUX bare bulp.
Weight
Design wise, the VL series bares some resemblance to the Aputure Lightstorm series and also features some similar features. Made out of aircraft grade aluminimum, the lights are compact and light in weight. The 150 Watt model weighs only 1.97 KG / 4.27 LB with the biggets 300 Watt model only weighing 2.64 KG / 5.82 LB (body only). The total weight including adaptor and power supply is 3.55 KG / 7.82 LB for the 150 Watt model, 4.38 KG / 9.65 LB for the 200 Watt module and 5.04 KG / 11.11 LB for the 300 Watt model. To put this in to perspective the Aputure 300d II weighs double the amount of the 300 Watt Godox at 11.56 KG or 25.5 LBS.
What is new
Godox has listed some of their advantages including a yoke mount that can be rotated to an underslung position alowing you to mount the light really low to the floor as well as super silent fans that cool both the power pack and the light unit. As expected the light comes with a bowens mount so accessorising will not be an issue at all.
As an upgrade to their other video lights, Godox has included the same accessories that are offered by their biggest competitor. I was not able to find how much the VL series will cost but I expect it to be at a lower price point as the lightstorm series. The items included in the box are:
The Actual Light (duh)
Controller
Adaptor
Power Cord
Remote Controller with LCD
Lamp Protection Cap
Bowens Reflector
A Carrying Bag
Functions
Godox has released some of the functionality of their light series, the Godox VL Power Pack features a blutooth as well as a 433MHZ which make the lights controllable by remote control as well as mobile application. We don't know yet if this will be controlled by the GodoxPhoto applicaion or a dedicted video light application. It will also be interesting to see if the light includes special effects like the FV series and if these can be modified and controlled by the mobile application. Aputure has also introduced updateable firmware, so it will be interesting to see if this will also come to Godox VL.
The light can also be powered by two V Mount batteries which are attached to the controller box which in turn connects via XLR to the light.Together with the light form factor this will most probably make the Godox VL lights a go-to light for mobile videography.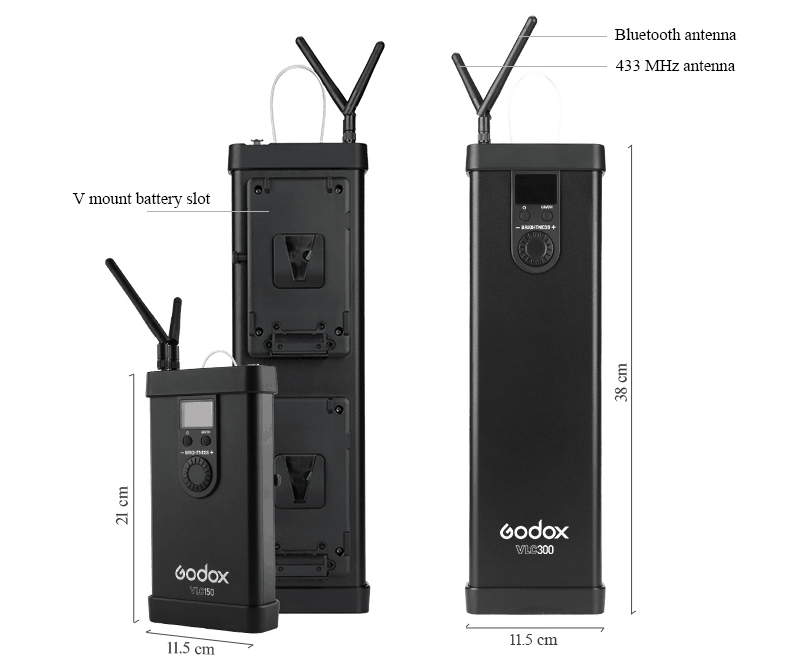 Godox VL150 VL200 VL300 Specs
Power Consumption
150W
200W
300W
Colour Temperature
5600K ±200K
5600K ±200K
5600K ±200K
Brightness with Reflector LUX
61000
75000
77000
Brightness Bare Bulp
6400
7800
10800
CRI / TLCI
96 / 95
96 / 95
96 / 95
Brightness Range
0% to 100% in 1% increments
0% to 100% in 1% increments
0% to 100% in 1% increments
Operating Temperature
-10 to +40 Degrees
-10 to +40 Degrees
-10 to +40 Degrees
Body Weight
1.97 Kg
2.23 Kg
2.64 Kg
Controller Weight
0.86 Kg
1.19 Kg
1.26 Kg
Adaptor Weight
0.72 Kg
0.96 Kg
1.14 Kg
Total Weight
3.55 Kg
4.38 Kg
5.04 Kg
The Verdict
If the price is right, this new product series from Godox will definetly be a great option for film makers, I will try to get my hands on a unit as soon as they are available on amazon so I can do a full demo and review of the Godox VL150 VL200 and VL 300. If you want to be kept up to date on industry news, make sure you subscribe to our newsletter or FaceBook Page.  We will also be launching our YouTube channel for some Video Marketing advise for social media so stay tuned.
If you are looking for a video (or flash) light for your video production or photography, check out my comparison of the Godox FV200 vs Aputure 300d II.