Hi, I have been using the Feelworld Master MP6 for approximately one year now and have used it on several small and medium-size jobs as an external monitor for my Lumix GH5 and GH5s. Before I start with my review, let's have a look at the specs for this external field monitor.
Feelworld Master MA6P Specs
Screen Size
5.5 Inches / 14 Centimeters
Resolution
HD 1920 x 1080 pixels
Aspect Ratio
Auto, 4:3, 16:9, Just Scan, Panorama, Pixel to Pixel
Viewing Angle
89°/89° (L/R) 89°/89° (U/D)
Output Options
3.5mm Stereo Headphone / HDMI
Supported Input Formats
480i/576i/480p/576p 720p (60/59.94/50/30/29/25/24/23.98)
1080i (60/59.94/50)
1080p (60/59.94/50/30/29.97/25/24/24sF/23.98/ 23.98sF)
4K UHD 3840×2160p (30/29.97/25/24/23.98 Hz)
4K 4096×2160p (24Hz)
Menu Languages
English, 简体中文, Español, Português, Français,Deutsch, 日本語, 繁體中文
Overview
The Feeldworld Master MA6P is a budget field monitor with some great features for amateur and even professional filmmakers, while it lacks features of the more expensive brands such as LUT's and external recording it functions really well as a Focus Monitor and has a great set of built-in functions such as Color Control, Grid Overlay, Center Markers, Image Freeze, Image Flip, Anamorphic Desequzze, Focus Assist and Over Exposure warning with configurable exposure levels.
Be aware that this is NOT a 4K Monitor. Many Amazon listings will have a 4K HDMI logo on the image, the monitor down samples to HD so at no point do you actually see 4K on your monitor, you can merely use a 4K signal.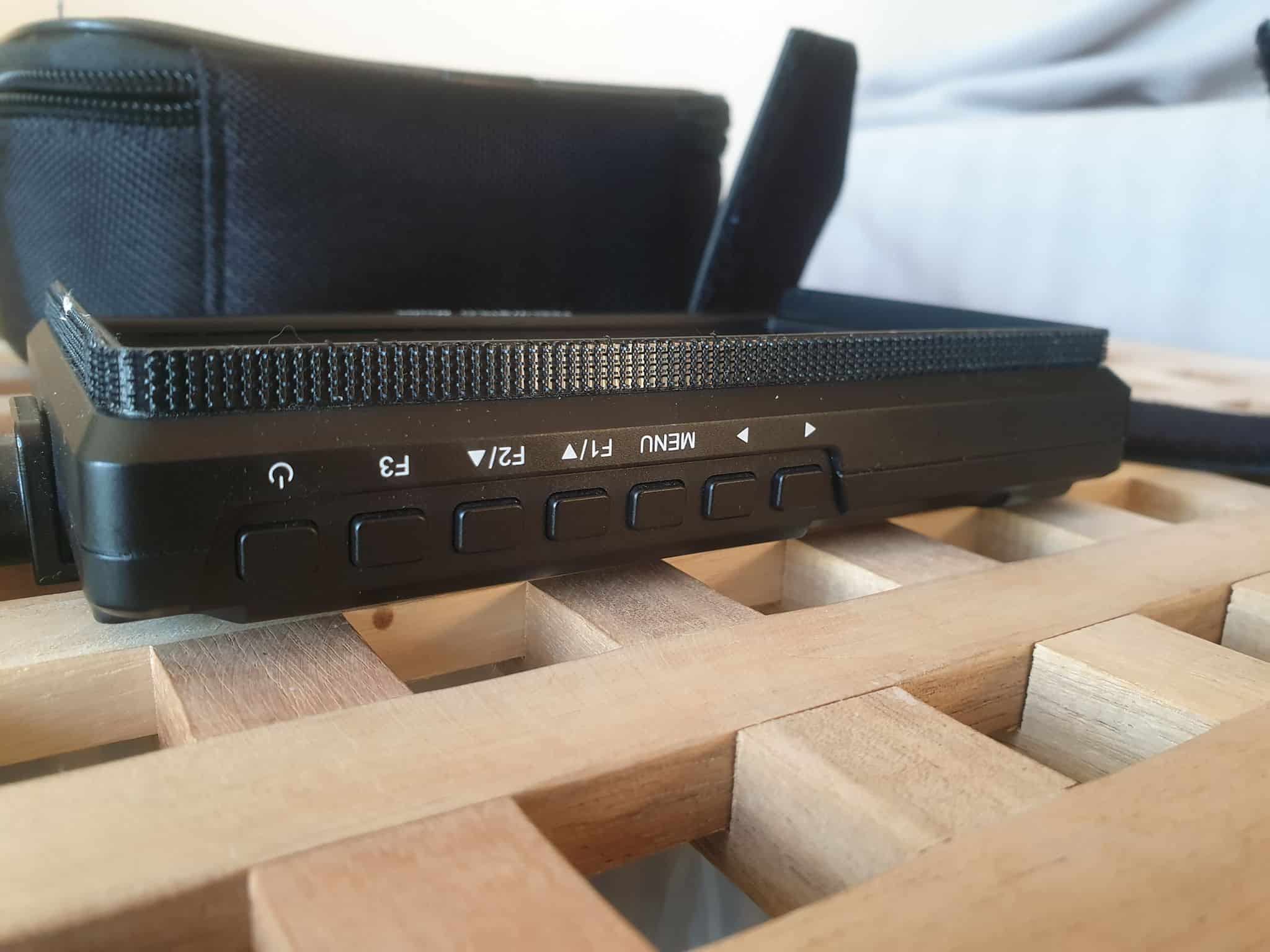 What's in the Box?
Generally all MA6P Monitors ship with the same contents, I have however found that some people received a battery with their Monitors while others (including me) did not. I assume this is due to recent EU Regulation changes that stop the transportation of batteries on commercial flights, however, I bought some Duracell Canon CE6 type batteries under 15 Euros which work well with this monitor. So here is what you get with the Master MA6P
The Monitor (duh)
Hotshoe Mount
Soft Transportation Case
Sun Visor
Build Quality
As most focus or field monitors, the Master MA6P is made out of plastic to keep its weight low. The Monitor (without battery) weight only 175 grams, I have been using this monitor on my Ronin S for most shoots and it really ads very minimal amount of weight to the whole unit. The plastic does not feel as luxurious as an Atomos Ninja but it does not feel terrible either. The one thing that worried me about the build quality was the way the Sun Visor is attached to the monitor. A thin strip of velcro has been glued to a little ledge where you attach the visor. As I live in Cyprus where we have extremely hot summers, glue usually has a limited lifespan. I have been using the monitor in the sun and heat for the last year and the velcro seems to hold fine, should it come off I will of course update this review accordingly.
Mounting Points
The second thing that worried me about the build quality was the monitor attachment which is held in place by two Philips screws via plastic attachment directly to the monitor. These screws have come loose multiple times during shoots so I always double-check them before I use the monitor. As there are two screws I doubt that it would completely come off while using it but it did start to wobble slightly which did bother me.
Feelworld could also have also addressed the mounting point locations. You can mount the MA6P on its right and bottom sides and there are no attachments for the top or bottom. This wouldn't be an issue if the visor could be mounted upside down as the menu has a horizontal and vertical flip option, this however then doesn't let you use the visor as it can only be mounted on the top of the monitor. This was a bit of an issue for me, especially when using my Ronin S where my focus wheel is located on the left which forced me to mount the field monitor on the right side of the gimbal.
Other than these points, the monitor feels well build and all input ports are solid in place.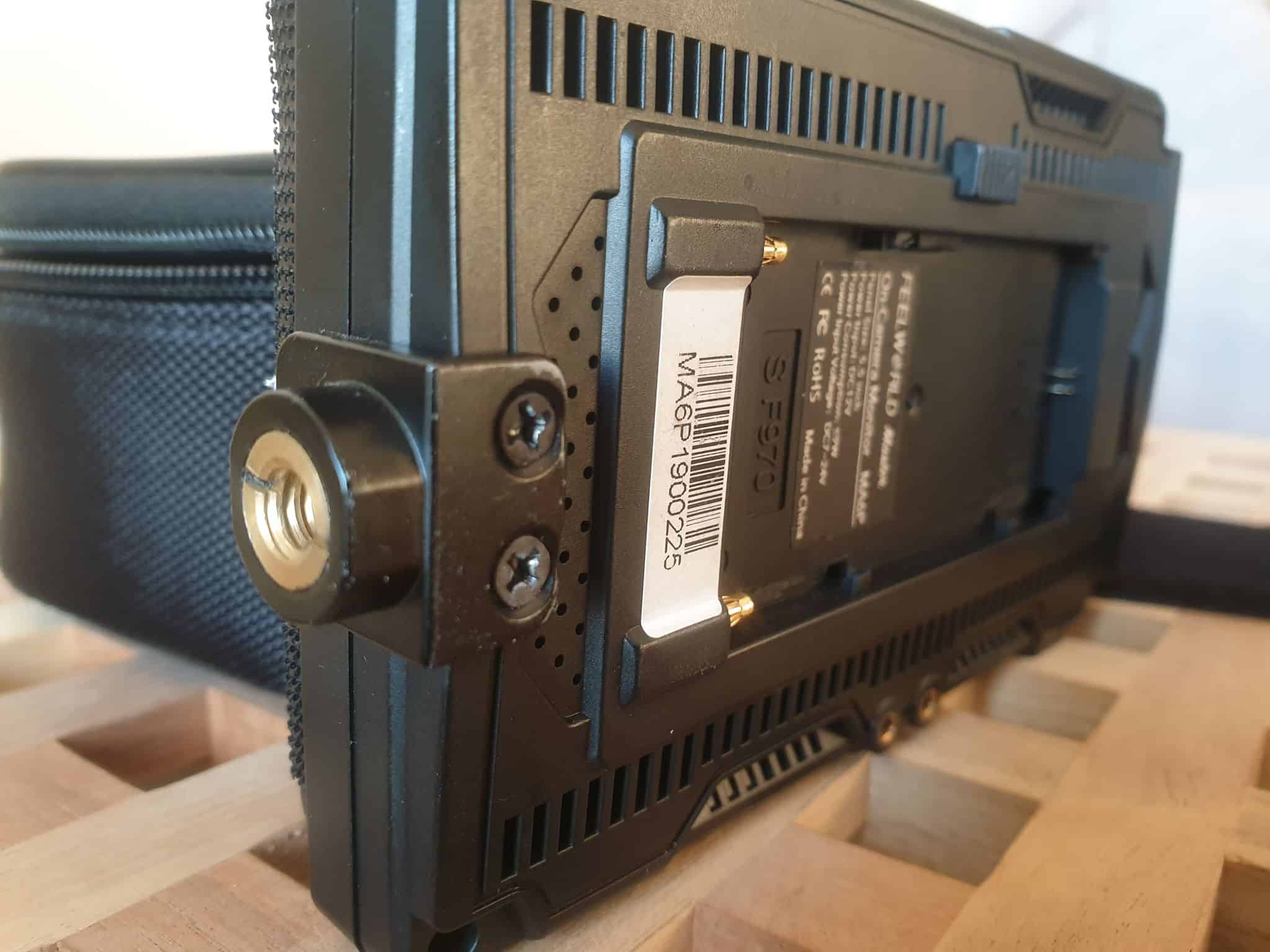 Functions & Real Life usage
As per I previously stated, the monitor does come with a good amount of functions given its price point. From a Software and Functionality perspective, it works really well in multiple scenarios. Even using it outdoor didn't cause any challenges, it was bright enough for Cyprus (with the visor) which should make it bright enough in most places. I have tested the Focus Assist which worked even better than the GH5's built-in option. The frame Freeze option is also very handy for special effects where you have to be in the exact same spot again as it creates a seethrough overlay as soon as you stop recording.
Power & Battery
To power the Master MA6P I have been using two Duracell DR9943 1600mAh batteries, they will last me approx 30-40 minutes each depending on the usage. Note that I have read mixed reviews about this battery and I did notice that the battery indicator was not always correct when using the DR9943. The monitor also has a DC 12V input which you can use to power it as well as a DC 8.4V output which you could use to power additional accessories or even your camera. Be sure to check your camera's power requirements before you do this.
Input / Output
In regards to input-output options, the Feelview MA6P has a full-size HDMI input and one full-size HDMI Output which you can use to chain another monitor with the same image. On the bottom of the monitor is a USB Upgrade port, I have reached out to Moman Play to ask if there is a software upgrade for this monitor, I was however told that this is only for factory use and there is no way to upgrade the Monitor yourself. This brings me to another point that I found confusing, the Monitor is branded as FEELWORLD but is not listed on the FEELWORLD website at all, instead, you can only find it on Amazon and MomanPlay.com. I assume that the monitor is built by Freeworld and sold under other brands but I have no proof for this and it is just my assumption.
The Verdict
So the question is would I recommend this field monitor? And the answer is Yes, the LED panel quality is very high and you can see a lot of detail, it is bright enough to use outdoors and it is very light so you can easily use it on your gimbal or handheld mounted to your cage. Yes, the monitor does have a couple of con's or quirks but given the price range and the product it is, it is well worth the price. Below you can see the main key features and con's but if you have any further questions, please leave a comment and I will answer as soon as possible.